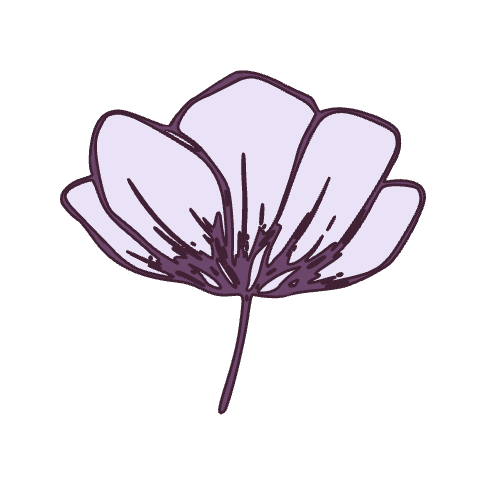 CHOOSE YOUR UNFORGETTABLE EVENT: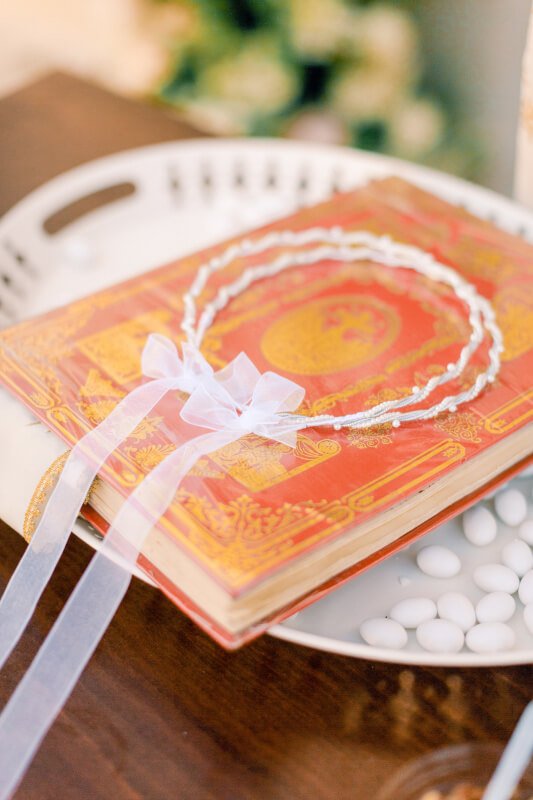 A religious wedding continues a tradition stretching back through centuries and provides a significance that cannot be measured. Of course this can mean there are specific rules and perhaps a more traditional ceremony but, on the other hand, it adds a significant dimension to your celebration.
They say that in Greece there's always a church close by and indeed this statement is 100% true. There are a huge number of churches of all denominations on the island of Crete, some are famous and some are truly hidden gems. Some are surrounded by mountains and Mediterranean pines, and some provide a fantastic view of the sea from high up. There are also many old Cretan monasteries often placed in the most beautiful surroundings, many of which are happy to perform the wedding sacraments. To choose the best you must know them all, and that's where a local wedding planner with great experience can be indispensable.
Then there are all the arrangements – booking the dates, ensuring all the legal papers are properly filed, booking the right priest, completing the marriage documents, and ensuring they are correctly certified and translated into Greek. 
It is during this stage that the help of an experienced wedding planner can be vital, especially if one or both of the partners are not Greek citizens.
Every wedding is special with the rituals and traditions common to all: a beautiful venue, the flowers, the wedding gown and the aisle. But when it comes to the moment to tie the knot, it might be that a non-religious ceremony is your preferred choice.
A civil wedding can take place in a wide variety of places – a town hall or a village hall, on the beach, somewhere overlooking the sea – it can be a totally intimate celebration with just a few select people or a large celebration. It is a legal marriage that is presided over by a legal officiant. 
Another popular option is to have a civil wedding first, to get all the paperwork done, followed by a ceremony outside with a celebrant chosen by the couple, followed by a reception. This would combine the Civil wedding and the symbolical ceremony at the same time.
With planning any wedding, it is important to realise that all the legal paperwork must be done strictly on time and with absolute accuracy, especially as the marriage is taking place in a foreign country. This is where having an experienced wedding planner can be essential.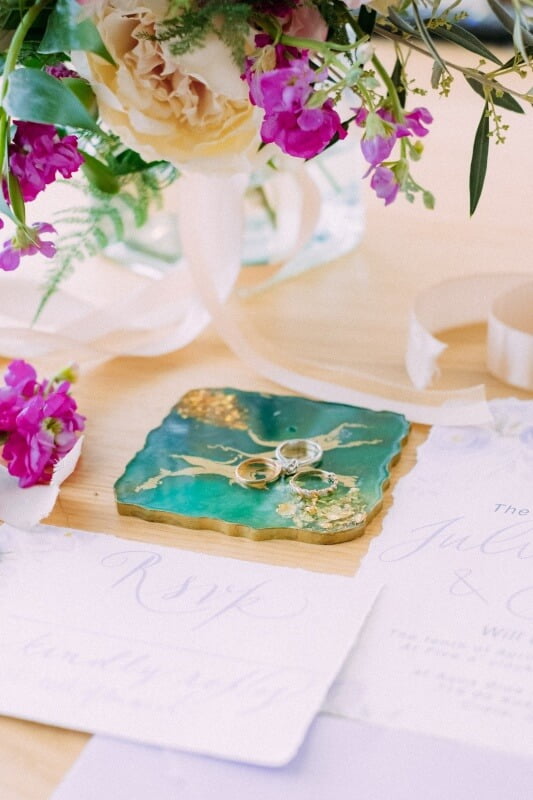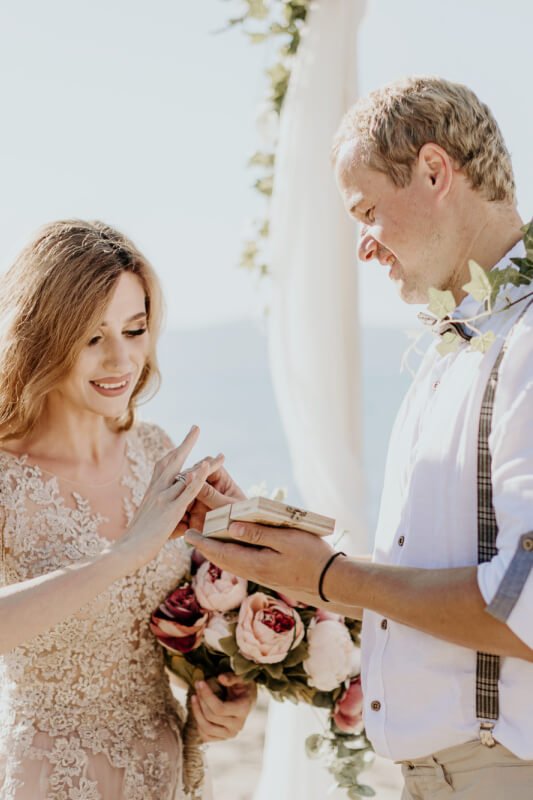 What is a Vow exchange ceremony? It is a ritual where two people declare their love to each other and exchange vows to spend the rest of their lives together.  It is similar to a wedding and can include many of the wedding traditions, but it does not result in a legally binding marriage.
This is an ideal option for couples who want a magical 'wedding' ceremony in Crete without having to go through all the paperwork. If they wish, they can bind the marriage legally in their country of origin before or after the Cretan ceremony.
Another option is the renewal of wedding vows which is becoming more popular. Many couples want to renew their wedding vows to celebrate a milestone anniversary or simply to remind each other of their commitment to each other and say "I do" over and over again. Sometimes a couple couldn't afford a big wedding when they were younger and want to have this fabulous experience.
So, even if you haven't thought about this before, you might want to consider this idea if you're planning to visit Crete.
The Vow exchange ceremony is the most flexible type of ceremony as there are no limits or rules. It suits also same sex couples looking to design their own ceremony in totally their own style, including the traditions you like and excluding the ones you don't. Or you can even invent your own. It can be as meaningful as a wedding and certainly benefits from an experienced wedding planner to ensure the ceremony is unique and meaningful.
The Greek Orthodox christening is a major event that represents the dedication of a child to God, giving the child a name and greeting a new member of the Christian community.
In Greece, a christening is always a formal celebration and the planning of it is time consuming and challenging for parents and godparents, understanding the Greek christening traditions and handling the organisation. 
Usually, a child's baptism takes place in one of Crete's beautiful churches or monasteries. We are well placed to identify suitable venues and choose the best for you. Together with the future godparents, we will arrange for you to meet a priest, agree on the date and discuss the theme of the celebration.
A christening in Greece is similar to a wedding in that there are legal papers to finalise as well as choosing designs for the invitations. But the biggest part of planning is organising the ceremony which is my specialty so that you can have the best and most magical ceremony for your child.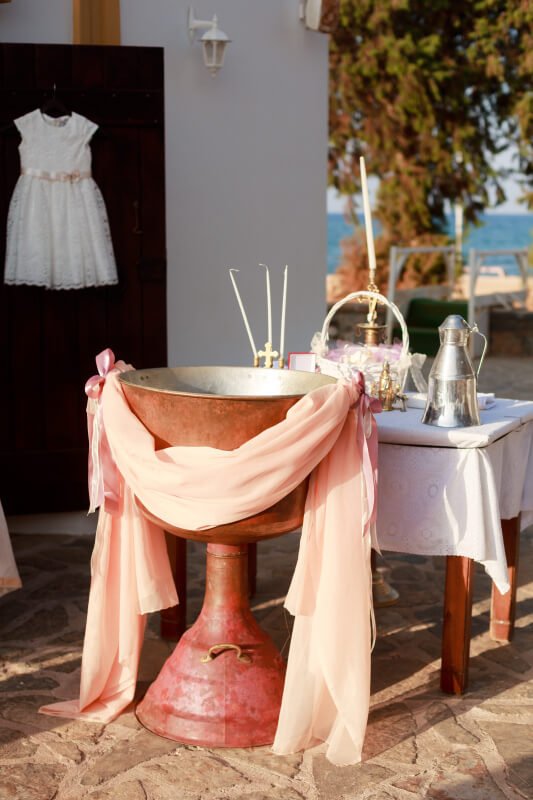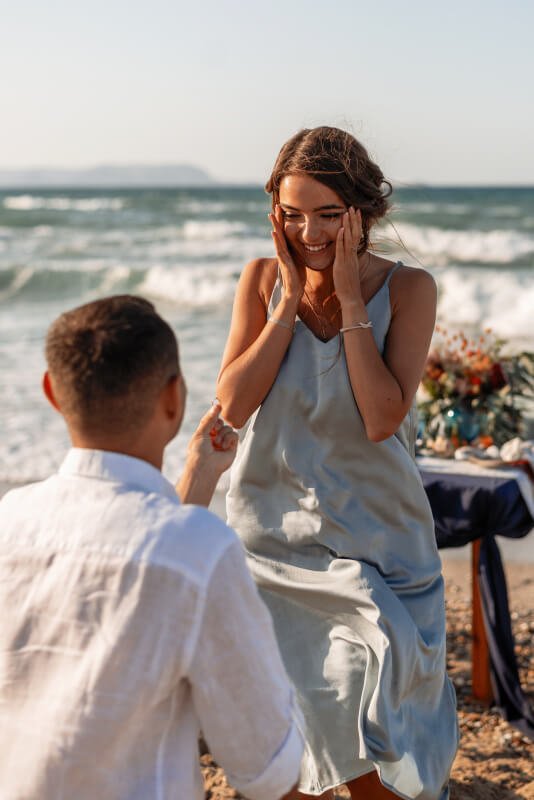 It all starts with love! Then there's a moment you realise that your partner is the one and you want to find the perfect setting to propose. We can help you organise a truly dreamy proposal where your partner won't have any choice but to say YES.
Looking for an original or surprising wedding proposal? The sky is the limit! Your romantic proposal personally designed and carried out in the most beautiful setting. And Crete offers the most perfect of settings. Nothing is more romantic than the sea. Nothing can represent love's eternity better than the ancient stones of a Minoan palace. Nothing can offer seclusion better than the Cretan mountains.

I am here to help organise everything and will try to rise to any challenge every step of the way, from your initial idea to the moment he or she says YES. Your wedding proposal requires good planning, logistics and discretion!
Choosing the right location is one of the most important decisions of your event and in Crete, you have a vast choice of venues. 
What would you prefer? Here are some options: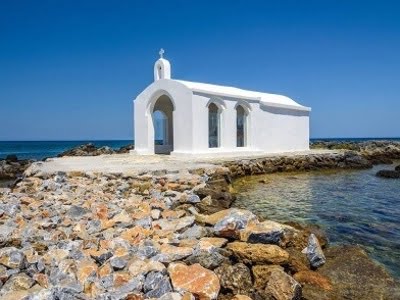 Chapel
Crete has a huge number of beautiful churches, monasteries or small chapels.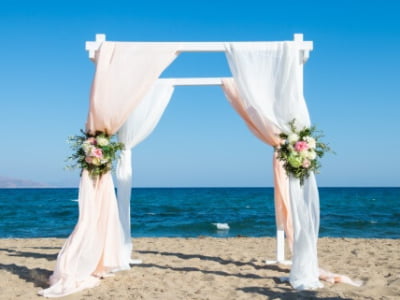 Beach
Definitely, the seashore is one of the most requested wedding locations in Crete.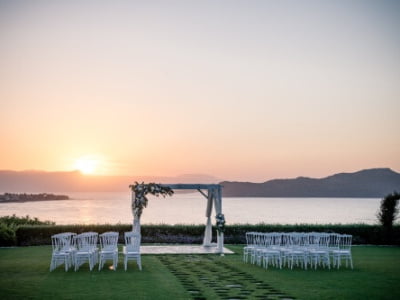 Sea view venue
The beautiful sea view is by far the best background for your wedding in Crete.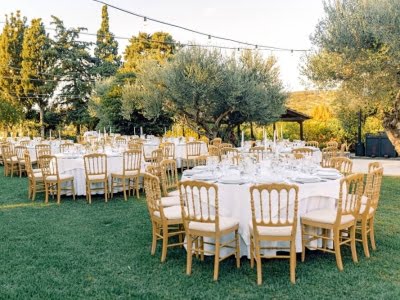 Estate
Most of the local estates are surrounded by mountains, so the breathtaking views around will not leave anybody indifferent.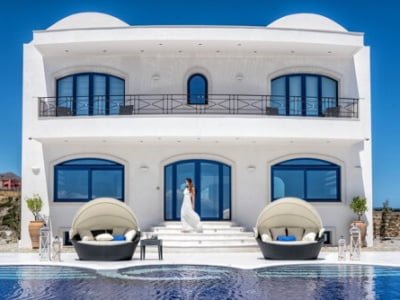 Private villa
A wedding in a villa is one of the most popular wedding formats, and truly the most comfortable.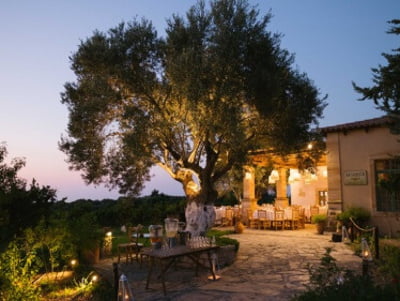 Traditional Venue
A farm or village wedding is the best way to explore the culture and traditions of Crete.
Vineyard
If you are a real fan of good wine and you like something unusual, then you will certainly appreciate the idea of having your wedding at a winery.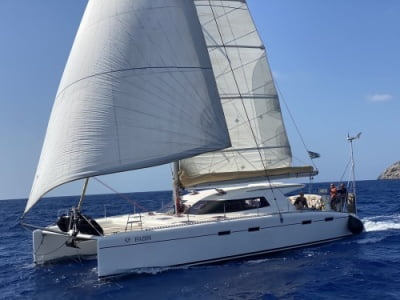 Yacht
What if you consider a yacht as the venue for your ceremony? This idea will definitely appeal to fans of the sea and brave couples.
WE WOULD LOVE TO PLAN YOUR ELOPEMENT IN CRETE
I am sure you would prefer to check the chosen venue with your own eyes but, if you are not in Crete, the wedding planner will become your eyes. I will provide you with all the photos and videos, from every possible angle, so you can be sure it is perfect for you. We can also arrange a video chat, so we can show you around the venue and you can see the place for yourself.
Then we can book the venue for you and begin the preparations to make it perfect, specifically for you!
Interested to know how much a wedding in Crete costs?